Corpus Christi History Essay Writing
Why study History at Cambridge?
For those interested in the Humanities and Social Sciences, History is perhaps the key discipline. It covers many diverse aspects of human life through the ages, and encompasses different approaches to the past, from the study of cultural, religious or social factors to that of political thought or changes in economic life. More than this, it provides a solid training in analysis and argument that students often find invaluable in their subsequent professional life. As one of around 200 undergraduates a year across the university, you would be part of one of the largest and most diverse History departments in the world, with over 160 academics whose expertise covers all continents and more than two millennia of history, from classical Greece and Rome to twentieth-century China or the United States. In addition, you would have access to unsurpassed library and digital resources.
Why study History at Corpus?
Most descriptions portray Corpus as old, small and pretty. All three are true but we are much more than this: Corpus is a thriving academic community of scholars, and a wonderful place to study History. The college itself is steeped in it. Founded in 1352 by the members of two urban guilds in the wake of the Black Death, the college possesses one of the finest libraries in the world, the Parker Library, which includes the oldest book in England and the first picture of an elephant ever drawn in this country.
Although Corpus is a small college, admitting around 90 undergraduates a year, History is a big subject within the college in terms of both size and achievement. We usually admit around eight students to read History every year, making the proportion of Historians at Corpus much larger than at bigger colleges. What's more, we pride ourselves on identifying and nurturing excellent candidates from whatever background they may come. This is reflected in our exam results. Individual Corpus students have frequently achieved the top result in History at the university and as a group Corpus Historians in recent years have been at or near the top of the exam tables in History, achieving first place in 2012.
How do we achieve these outstanding results? Once you arrive as one of the students who we have chosen as having the most potential to do well, you will be provided with the close attention that will allow you to thrive and develop your intellectual capacities. Your Director of Studies will help to guide your paper choices and set you up with the best supervisor for each paper. They will often be from amongst our own Fellows at Corpus, but more commonly they will be a Fellow from another college who we know has looked after our students well in the past.
You will be taught, for the most part, through weekly one-hour supervisions – an essential feature of the Cambridge system, and one that makes it so special. Each week, you will be set an essay on a particular question, and given a reading list. The essay is then handed in on the day before the supervision, which consists of a discussion of the written work and of the wider subject. The great advantage of this system is that the supervisor can meet students at their own level and enable them to progress from that point. From the student's viewpoint, direct engagement with the supervisor can give them the kind of stimulus lacking at other universities. Furthermore, in your first and third years you will meet fortnightly as a group with one of our fellows to discuss historical ideas and problems. We also provide group and individual classes on essay writing to ensure that you are as well prepared as possible for exams, come the time.
In your first year we encourage you to take at least one paper in college so we can monitor your progress as you settle in. The college has particular strengths in World History, the Enlightenment, the History of Science and Medicine, and Medieval History. Our internationally-renowned active fellows in History include Dr Shruti Kapila, a historian of modern India, imperial and global history, and Dr Emma Spary, a historian of science, medicine and technology in eighteenth-century Europe. Dr. Andrew Spencer is a Fellow of Murray Edwards college who also directs studies for Corpus. Other historians amongst the Corpus fellowship who interact with our students include the best-selling medieval economic and social historian, Professor John Hatcher; Prof Christopher Kelly, a historian of the Roman Empire; and Dr Barak Kushner, a historian of Japan and China. We also have Prof Christopher Andrew, the official historian of MI6 and author of numerous works on spies and intelligence.
What we look for
A typical offer consists of A*AA at A2, 7 7 6 (40-42 overall) in the IB, or the equivalent in other educational systems. We expect no particular combination of subjects, although A level History or the equivalent is essential.
Candidates are interviewed in the first two weeks of December. You will have two interviews, one of which will involve questions on a source that you will be given shortly before the interview. Part of the interviews will usually involve a discussion of the written essay you have submitted in advance. If you wish to know more, we would love to meet you at one of our College Open Days. At these you can discuss the course in more depth with our Directors of Studies and also get a chance to meet some of our students. Alternatively, you can address individual queries to our Directors of Studies: Emma Spary and Shruti Kapila.
College and University life is what you make of it, and our History students are often at the forefront, involving themselves in running the Junior Combination Room; the Cambridge Union; acting in and directing plays; singing and playing in college and University choirs, orchestras and bands; and participating at all levels in college and University sport as well sampling the dizzying array of clubs and societies that Corpus and Cambridge has to offer.
On leaving Corpus, our History students have gone into many varied careers, including law, journalism, the City, performing arts, the Civil Service, teaching and other professions. Many decide they like History at Corpus so much that they wish to stay and engage in further studies.
Celebrate America Creative Writing Contest!

The American Immigration Council is proud to sponsor the annual Celebrate America Fifth Grade Creative Writing Contest. The contest inspires educators to bring U.S. Immigration history and lessons into their classrooms and gives fifth graders the opportunity to explore America as a nation of immigrants.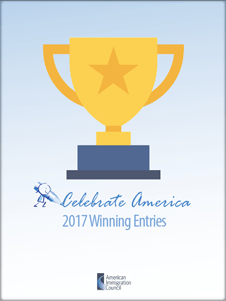 5th Grade writers use the theme "Why I am Glad America is a Nation of Immigrants" to discuss their personal immigration experiences, learn about and share family histories or write about the broader questions of the challenges facing immigrants in a new land. Students enter their work in local contests which are sponsored by chapters of the American Immigration Lawyers Association (AILA). Each chapter forwards the local winning entry to the National Competition where entries are reviewed by a distinguished panel including U.S. senators, award-winning authors and noted journalists.
The national contest winner and her or his parents/guardians will attend a national event hosted by the American Immigration Council.
For this year's flyer, click here!
---
The office of Rodriguez & Moretzsohn has encouraged different schools in the area in the years 2016 and 2017 to participate in this contest, including Windsor Park Elementary, Incarnate Word Academy, and St. Patrick Catholic School. If you are interested in participating in this contest, feel free to contact our office!